GET YOUR POSITIVE ENERGY INTAKE
FOOD IS FREQUENCY – RAISE YOUR VIBRATION
BOOSTING WELLBEING > MENTAL ENERGY > FOCUS
In today's busy stressful world, many of us can be caught up in comfort eating and pleasure seeking through food and drink. The sensory hijack of our taste buds, constant fast food advertising, drive-thru's and take out delivery services can make it a great challenge and difficult to exercise discipline and stay in control when it comes to maintaining a healthy lifestyle. With cheap and easy to buy processed foods, over eating and obesity is at an all-time high, contributing to disease and long term ill health.
It's important to get our positive energy intake, learning to eat the right foods and consume the right types of drinks, getting the essential nutrients, vitamins, minerals and energy to help us to deal with the demands and pressures of life, managing the many challenges that may come our way throughout the day. Exercise, a great release for stress, along with good nutrition and staying hydrated, can help promote a positive mindset and optimal health. It's so true that food is frequency, when we eat good we can feel good, uplifting our energy frequency and vibration, boosting our wellbeing, mental energy and focus.
Gut Health – Boost Your Immune!
80% of your immune system is found in your digestive system, making a healthy gut the root of your optimum health. It is said that we have 3 brains, the head, the heart and the gut instinct, with our gut health playing a key role in supporting a strong immune system, also influencing our mood and wellbeing. Eating immune boosting foods can protect us from potential viruses, illness and feeling run down, keeping our battery charged and our energy levels up. Our nutritional habits along with exercise can have a powerful and positive effect on our metabolism, the ability for our body to recover and heal. You can find a world of information online about the guts interaction with our immune system to improve and maintain of our body's homeostasis and good health.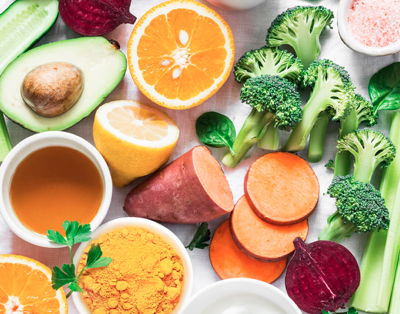 The Truth Is, Your Body Is Your Vehicle and Food Can Give Us The Fuel, Helping To Power Our Journey Through Life
Optimal Health > Peak Performance!
Increasing our knowledge and awareness, many of us are taking the steps to eat more consciously, improving our positive energy intake and wellbeing through the many different options available. Organic foods, alkaline, vegan, vegetarian, juicing, energy and vitamin supplements, nutritional shakes, intermitting fasting and more. Developing good nutritional habits, learning to eat good and feel good is key to living your best life. Whether your young, mature, a fitness fanatic, athlete or sports performer, looking to improve optimal health or develop peak performance.